Banana coconut cream pie meets a buttery coconut cookie crust + a rich chocolate ganache layer. Talk about the ultimate cream pie!
The ultimate in cream pies, this mashup of banana + coconut + chocolate is perfect for when you just can't decide what kind of pie to make.
The textures and flavors are out of this world amazing!
For a pie with a lot going on, all the layers and components work together in a way that make it seem like this pie was totally meant to be and not just a happy accident.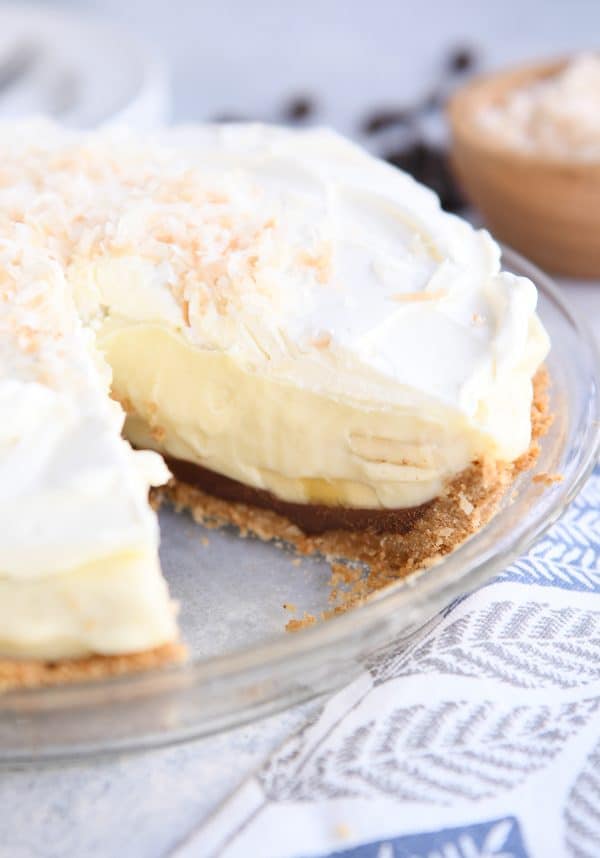 Make-Ahead Pie
Banana cream pies usually don't do well if made more than a couple hours in advance. Those pesky bananas like to turn brown despite best efforts (and even slathered in lemon juice – which can affect the flavor of the pie). 
But banana cream pies, and in this case banana coconut cream pies, can still be made ahead by making all of the components ahead of time. 
For this pie, almost everything can be prepped days in advance: 
coconut graham cracker crust (prep, bake, cover with plastic wrap and refrigerate)
chocolate ganache (cover and refrigerate; lightly warm until spreadable before using)
homemade pudding (press plastic wrap directly on the surface and refrigerate, stir well before using so it's more spreadable)
toasted coconut (toast the coconut and store in a sealed container or bag at room temp)
The sliced bananas and whipped cream are the only components that do best prepped right before using.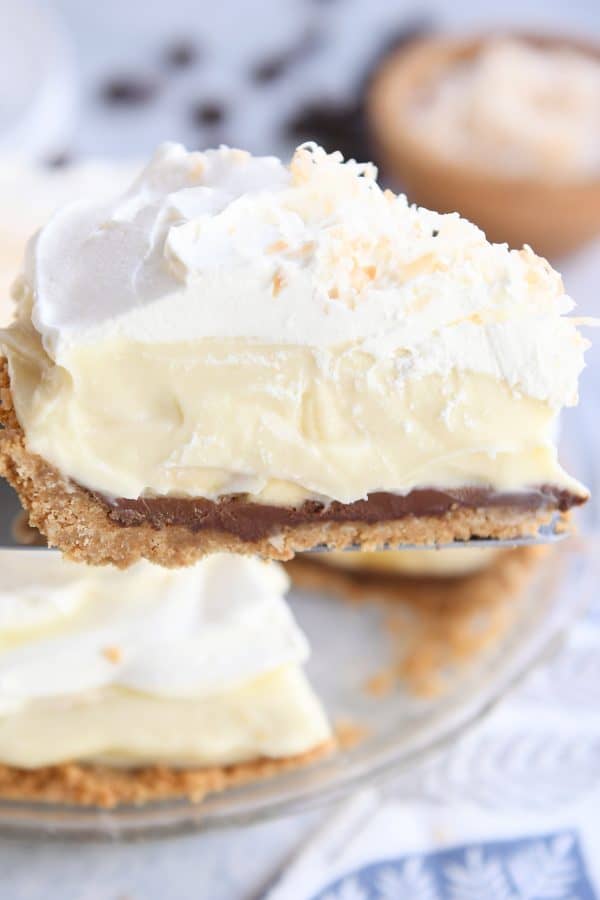 Homemade Pudding Filling
This homemade pudding pie filling is based on the already-popular coconut cream pie recipe I've used for years. 
The pudding ingredients are whisked together in a saucepan and cooked for a few minutes until thick. Butter and vanilla + coconut extracts are added, and then if you choose, you can strain the pudding through a fine mesh strainer.
I always do this because I guess my weakness is ultra-smooth and lump-free pudding.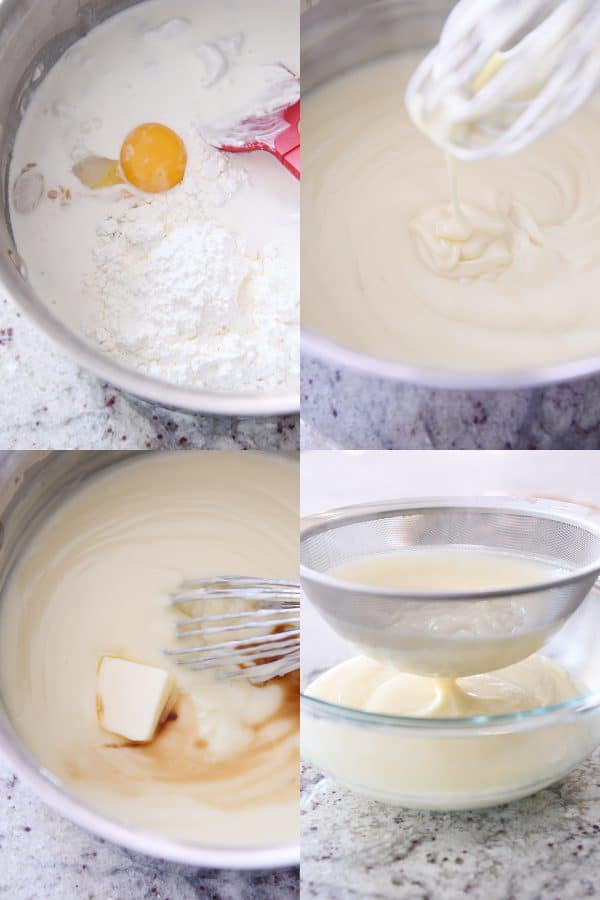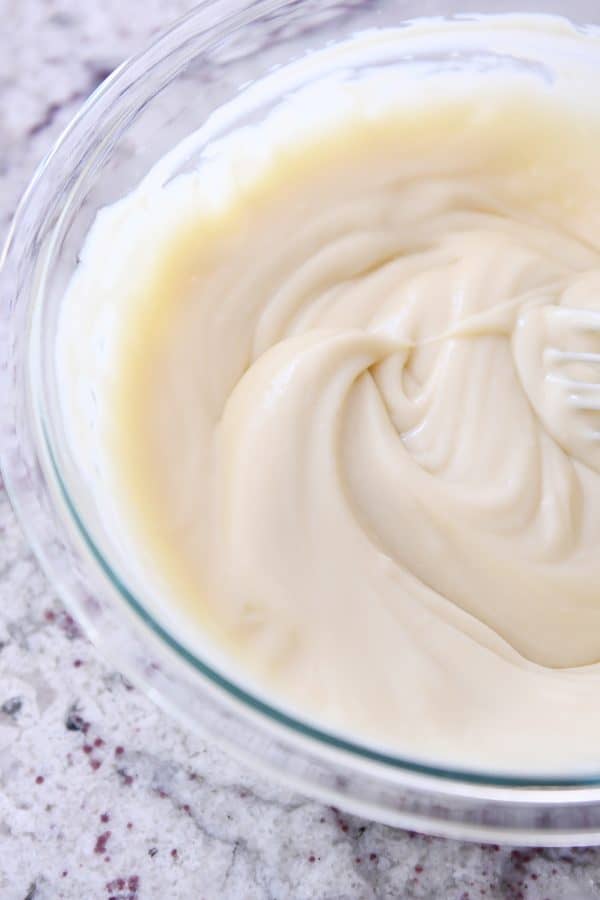 A Special Crust
There's graham cracker crust and then there's buttery coconut graham cracker crust. 
I guess it's no surprise that such an amazing, special pie has such a foundation of awesomeness. Life lesson #47: a pie will only ever be as good as the crust. 
And this crust is really, really good. 
Once baked, it's slathered with chocolate ganache. So basically, all my dreams are coming true.
Assembling is Easy as Pie
It goes like this: 
crust
chocolate ganache
bananas + pudding + bananas + pudding
whipped cream
toasted coconut
The bananas perform a really important task in this pie by cutting through the sweetness of all the other layers.
Thank you, bananas. We need you for many reasons, banana bread forever, but especially for this important job. No other fruit could do what you do here.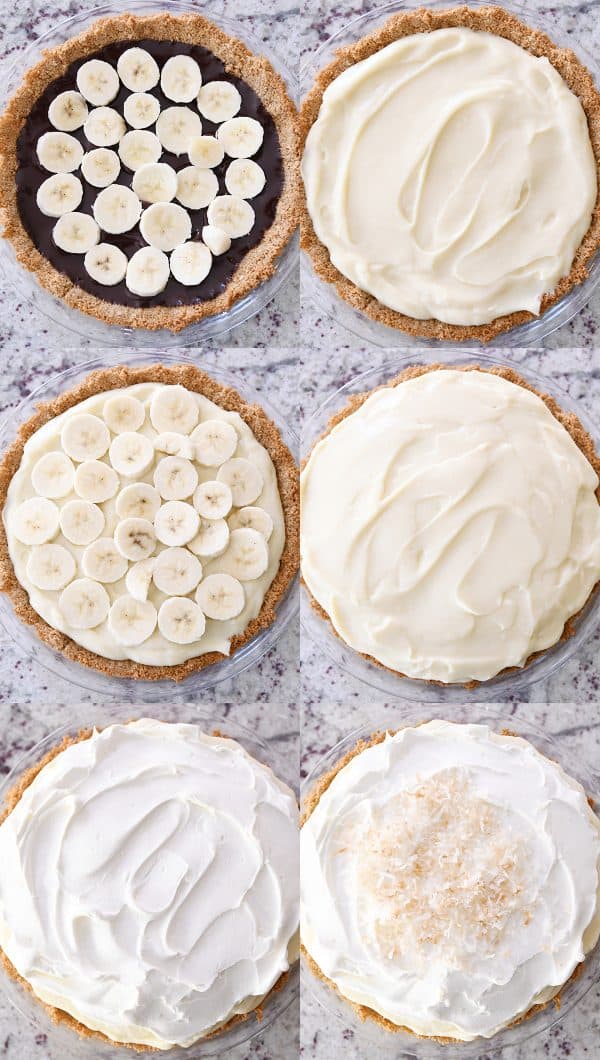 Even chilled, the chocolate ganache layer is soft and sliceable, and the rich chocolate undertones with the fresh bananas, creamy pudding, and toasted coconut flavor is unbelievably delicious.
My family goes crazy for this pie. Brian, who is a super fan of banana cream pie and coconut cream pie declared it his favorite pie ever. 
I'm just bummed it's taken me this long to put bananas in my coconut cream pie and chocolate in my banana cream pie and coconut in pie crust! 
This pie is magical, you guys! Make it!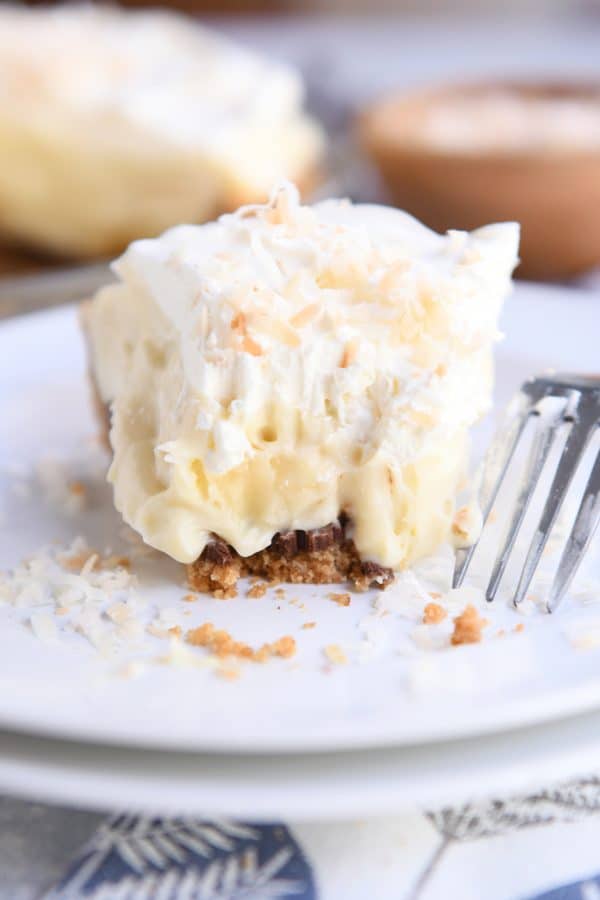 One Year Ago: Apple Cranberry Pie My Favorite Thanksgiving Pie
Two Years Ago: Instant Pot White Chicken Black Bean Chili Slow Cooker Directions Included! 
Three Years Ago: Homemade Green Bean Casserole with Extra Crunchy Topping 
Four Years Ago: Buttery Fluffy Cornmeal Dinner Rolls
Five Years Ago: Chocolate Cream Pudding Pie with Graham Cracker Crust
Six Years Ago: Warm Russian Tea
Seven Years Ago: Healthy Applesauce Carrot Muffins a.k.a. Carrot Cake Muffins
Eight Years Ago: Chocolate Mousse Cheesecake Pie
Yield:
12 servings
Prep Time:
1 hour
Cook Time:
20 minutes
Additional Time:
4 hours
Total Time:
5 hours 20 minutes
Ingredients
Coconut Graham Cracker Crust:
1 1/2 cups (6 ounces) graham cracker crumbs (about 11 rectangle graham crackers)
1/2 cup (1 ounce) toasted shredded coconut (see note)
1 tablespoon brown sugar
1/2 cup (8 tablespoons, 4 ounces) butter, melted (I use salted)
Chocolate Ganache:
1/2 cup semisweet or bittersweet chocolate chips
1/2 cup heavy cream
Pudding Filling:
1 can (13.5 ounces) coconut milk
1 1/2 cups heavy cream or half and half
3 large egg yolks
3/4 cup (5.5 ounces) granulated sugar
1/3 cup cornstarch
Pinch salt
2 tablespoons butter
1 teaspoon vanilla extract
1 teaspoon coconut extract
2-3 medium bananas, peeled and sliced 1/4-inch thick
Topping:
1 cup heavy whipping cream
1/4 cup powdered sugar
1/4 teaspoon vanilla extract
1/2 cup toasted shredded coconut (see note)
Instructions
For the crust, preheat the oven to 350 degrees F. Combine all the crust ingredients together until evenly moistened. Press into the bottom and sides of a 9-inch pie plate. Bake for 8-9 minutes until very lightly golden. Remove from the oven and let cool completely.
For the ganache, heat the cream to a simmer in the microwave or on the stovetop. Add the chocolate chips. Let sit for 3-5 minutes until the chocolate chips are melted. Stir until glossy and smooth. Spread evenly over the bottom of the cooled crust. Refrigerate until ready to assemble the rest of the pie.
For the pudding, in a medium saucepan, add the coconut milk, cream (or half and half), egg yolks, sugar, cornstarch and salt and whisk to combine. Bring the mixture to a simmer over medium heat, whisking or stirring constantly. Cook until large bubbles pop at the surface the mixture has thickened.
Immediately remove from the heat and stir in the butter, vanilla and coconut extracts. Strain through a fine mesh strainer (optional, but helps get rid of small lumps). Press plastic wrap directly on the surface of the pudding and refrigerate until no longer warm, 1-2 hours.
To assemble, place banana slices in a single layer over the ganache. Spread half of the pudding over the bananas, spreading all the way to the edges to cover the bananas completely (so they don't brown). Top the pudding with another layer of sliced bananas and then spread the remaining pudding over the top, spreading all the way to the edges.
Refrigerate the pie until chilled, 1-2 hours.
For the topping, whip the cream, powdered sugar and vanilla together until thick and creamy (I use my blender; you can use an electric handheld or stand mixer). Spread whipped cream over pie and top with toasted coconut. At this point, the pie can be served immediately or refrigerated for another 1-2 hours (much longer and the whipped cream may get a little weepy and put off liquid).
Notes
Toasted Coconut: I use this microwave method to easily toast the coconut. You can use sweetened or unsweetened coconut.
Crust: if using sweetened, shredded coconut, you can leave out the brown sugar for a less sweet crust.
Coconut Milk: use the coconut milk that comes in a can, not in cartons in the refrigerated section. You can use light or regular coconut milk, but the coconut flavor seems to be more prominent in full fat coconut milk.
Make-Ahead Tips: all of the components can be made several days ahead of time and refrigerated. Because the bananas tend to brown if made more than 12-18 hours in advance, if all the layers are made, it can be assembled quickly. The ganache will harden in the refrigerator, lightly warm in the microwave until just spreadable.
Recommended Products
As an Amazon Associate and member of other affiliate programs, I earn from qualifying purchases.
Recipe Source: inspired by a recipe in the Bake magazine (changed it to be a banana coconut cream pie, used my own pudding recipe, changed most of the other ingredient amounts)