Brown butter caramel snickerdoodles are as delicious as they sound and easy to make, too! One of a kind, they're sure to become a favorite.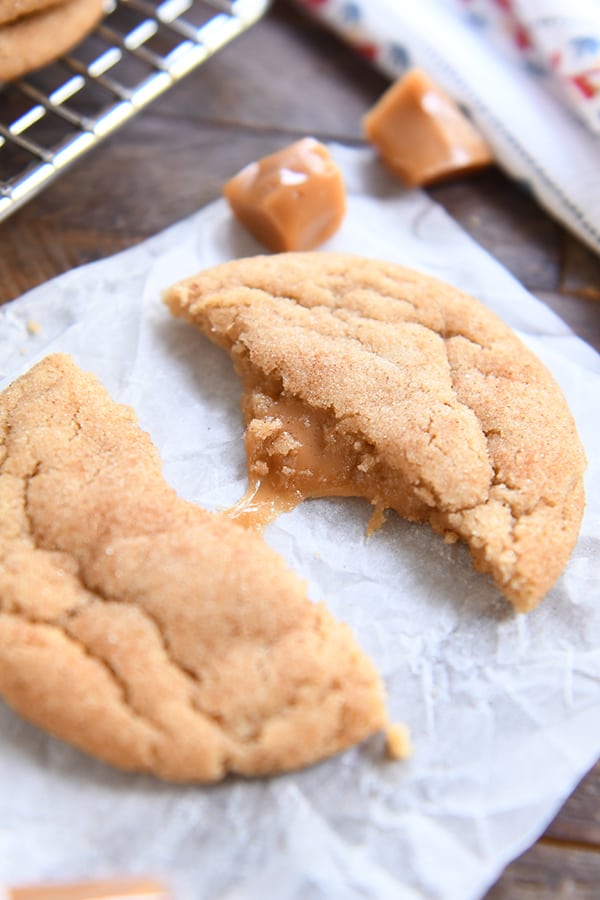 For someone who has been a self-professed snickerdoodle skeptic for most of my life, I think I am going through a mid-life crisis.
First these pumpkin snickerdoodle blondies. They have quickly become one of my most popular recipes! You guys are raving about them (and I can't blame you; they're amazing). 
And now…these brown butter caramel snickerdoodles. 
The combination of nutty brown butter, chewy caramel, and soft snickerdoodles makes for a one of a kind cookie that is crazy good.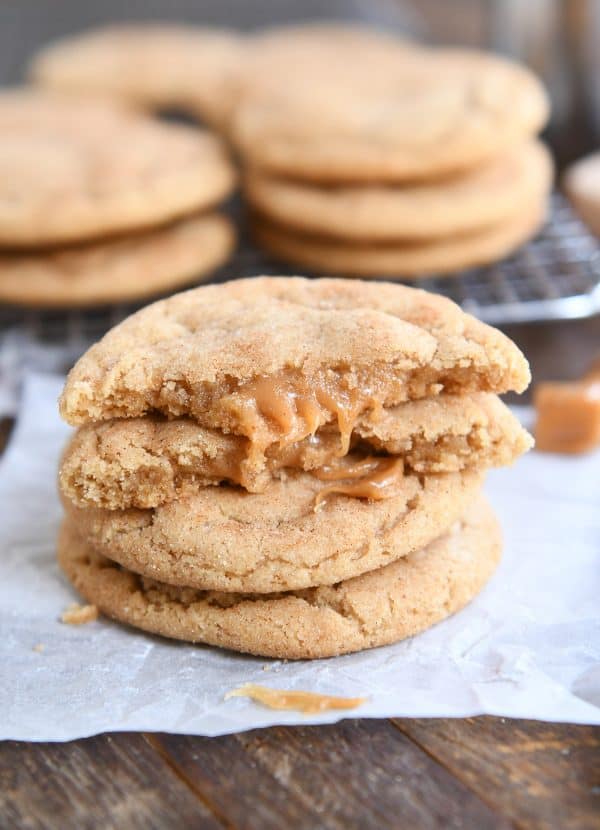 Just Brown the Butter Already
If browning butter has turned you off from recipes in the past, today's the day to get over that once and for all.
I can promise you that browning butter will revolutionize your life (in so many ways), and it's not hard, I promise!
Here's a quick tutorial on how to brown butter. All you need is a skillet or saucepan and some butter. As the butter melts and cooks, the solids in the butter settle at the bottom of the pan and cook until golden.
Those little bits develop a nutty and caramelly flavor that is unparalleled and adds amazing dimension to baked goods. It'll take a couple minutes, that's all!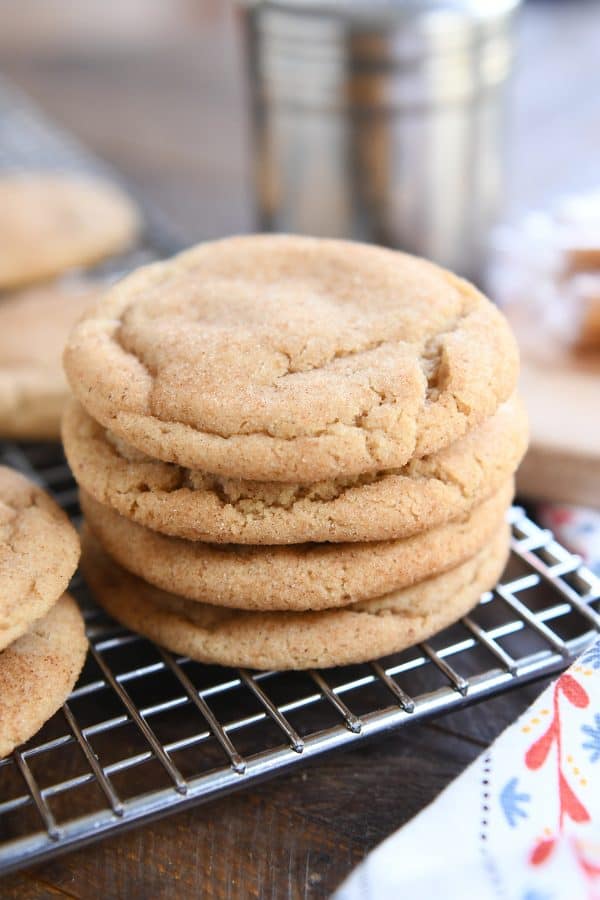 Let it Cool
In most recipes that call for brown butter, I use it immediately after it has browned while it is still warm. 
This recipe is a little different. It's really important to let the brown butter cool until thick and sludgy, or at the very least – just no longer warm, before using in the recipe. 
Why? If the butter is overly warm, these already-thin cookies will spread and flatten way more than they should.
So give the brown butter a chance to cool down a bit, ok?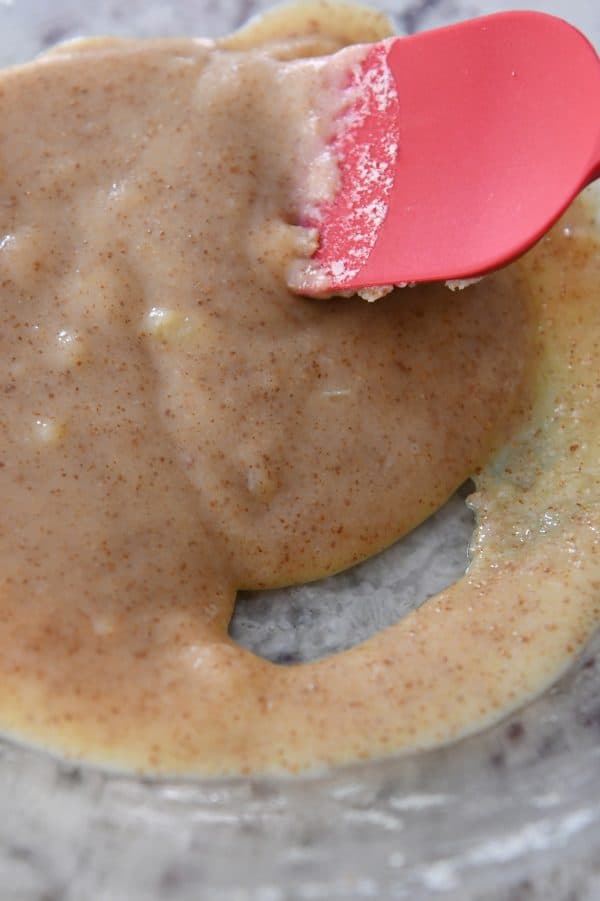 I use a good old-fashioned bowl and spoon to mix up the cookie dough. Sure beats cleaning an electric mixer, but you could certainly use one if you'd like. 
The cookie dough is fairly thick at the end, so I ditch the spoon and get in there with my hands to mix it all up.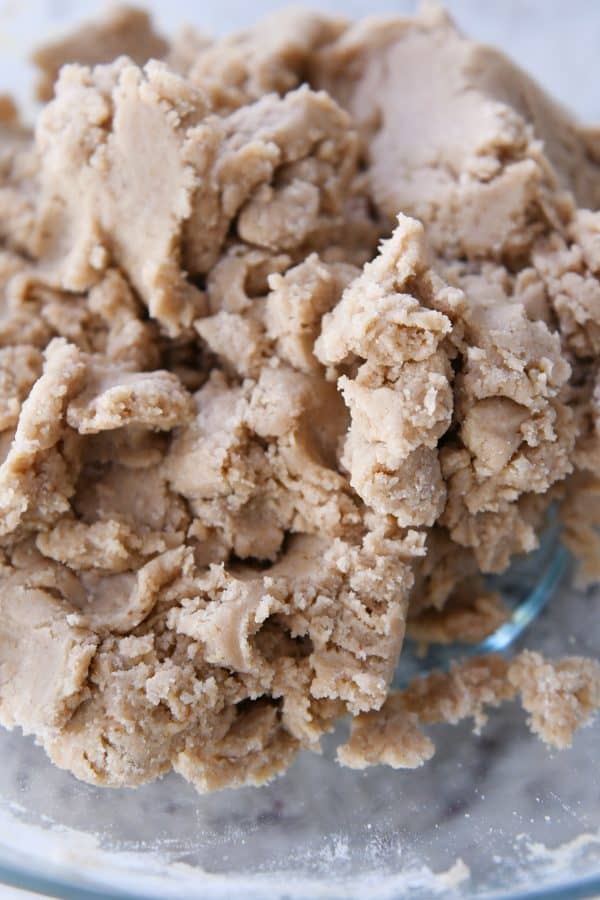 How to Get the Caramel in the Cookie
Glorious news! It's not rocket science. Just take a couple tablespoons of cookie dough and flatten into a disc.
Pop half a soft caramel in the center, press the dough around the caramel and then roll into a smooth ball. 
For the caramel: I'm using Trader Joe's sea salt caramels here. Any storebought (or homemade) soft caramels will work. If they're overly big, cut them into fourths. I cut the TJ's caramels into halves.
Just like traditional snickerdoodles, the cookie dough balls get a quick roll in cinnamon and sugar before baking.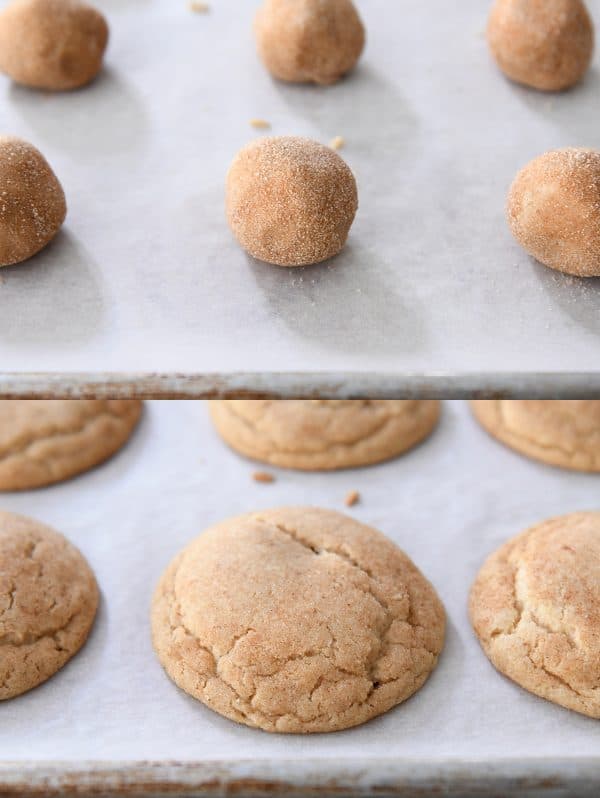 Oven Temperature is Important
After making this recipe several times (testing, testing, testing!), I've learned a couple of important lessons about baking temperature. 
Since the cookies are already on the thin side, there's a delicate balance between them baking up just right without them spreading or flattening too much. 
EVERY oven bakes a little differently and at slightly different temperatures
In my oven, I have the best results baking these cookies at 375 degrees (standard bake) OR 325 degrees (convection bake)
If you already know your oven has a tendency to bake hot and fast, you can probably get away with baking them at 350 degrees (standard bake)
Basically you want the oven temperature ever so slightly hotter than your regular "bake at 350"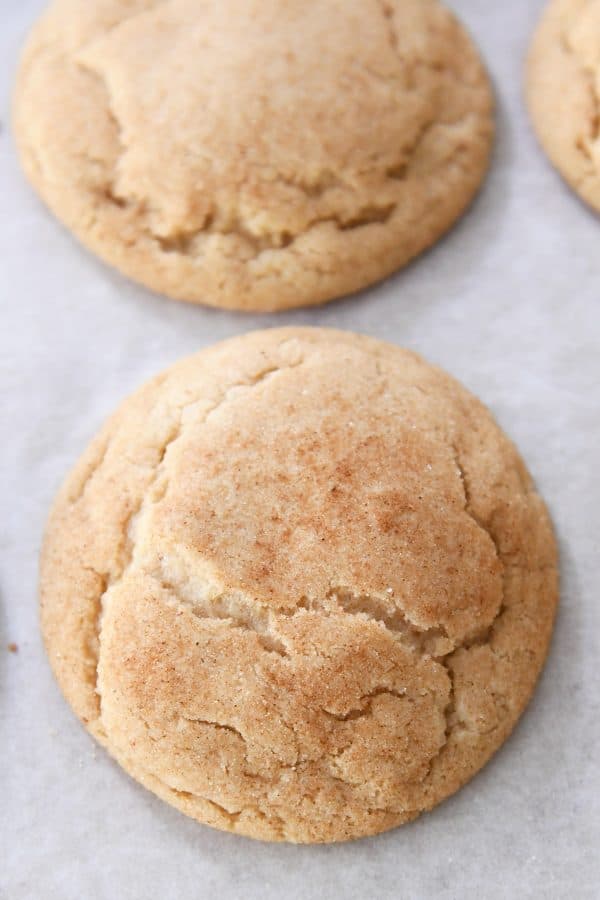 These cookies are absolutely divine a tiny bit warm from the oven because the caramel is melty and smooth. And also, warm cookies are just a gift from heaven.
BUT, they are also fantastic at room temperature. The caramel stays chewy and soft. It's the best surprise for anyone that thinks they might be biting into just your every day snickerdoodle!
These brown butter caramel snickerdoodles have it all. 
They make your house smell amazing, they have loads of wow-factor, the layers of flavor are through the roof, and if they can win over this snickerdoodle snob, I'd say they're pretty much miraculous.
FAQ'S FOR THESE SNICKERDOODLES:
Can I NOT brown the butter?
You can make these with regular softened butter (or melted butter that's been cooled). Just keep in mind that the caramelly, nutty, incredible flavor of the brown butter will be missing, and that makes me sad.
Can I use homemade caramel?
Sure! This is my favorite recipe for homemade caramel. The caramels I use for this recipe are rectangular in shape (1 1/2-X1/2-inches) and about .35 ounces/10 grams each. I cut them in half and use half of a caramel for each cookie.
Do these cookies freeze well?
I haven't tried freezing them, but I bet they would freeze fine. Just make sure to thaw them long enough so the caramel centers are soft and not break-your-teeth hard.
Can I leave out the cream of tartar?
Yes, but sub in 1 teaspoon baking powder.
One Year Ago: Perfect Homemade Caramel Apples Tons of Tricks + Best Caramel to Use
Two Years Ago: Perfect Small Batch Cinnamon Rolls
Three Years Ago: Easy Homemade French Bread
Four Years Ago: Harvest Pasta Sauce Trader Joe's Copycat
Five Years Ago: Peanut Butter Cup Cheesecake with Chocolate Cookie Crust 
Six Years Ago: Easy Homemade Egg Noodles Step-by-Step Pictures Include Food Processor Method or By Hand
Seven Years Ago: Black Bean and Butternut Enchilada Skillet 
Eight Years Ago: Peanut Butter Oatmeal Chocolate Chip Cookies
Yield:
30-36 cookies
Prep Time:
30 minutes
Cook Time:
10 minutes
Additional Time:
1 hour
Total Time:
1 hour 40 minutes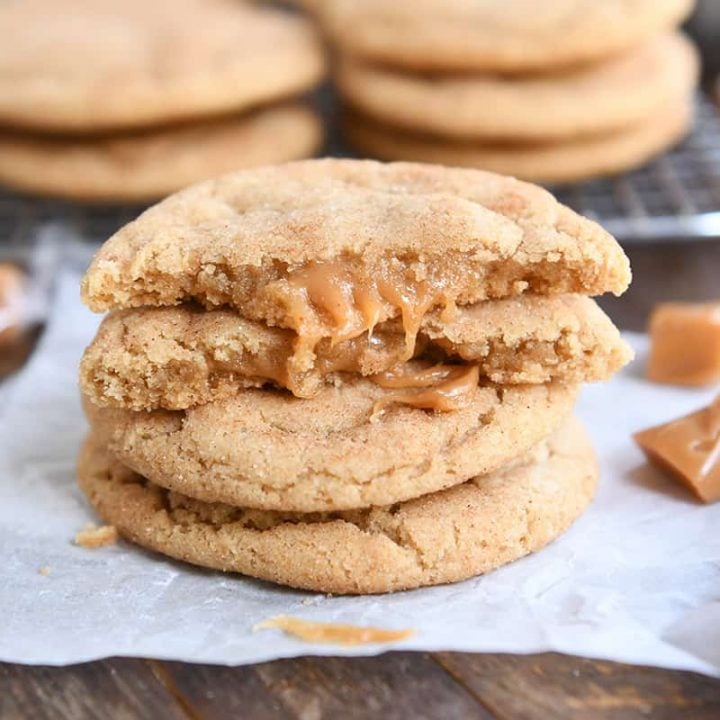 Ingredients
Snickerdoodle Dough:
1 cup (8 ounces, 16 tablespoons) butter (salted)
1 1/4 cups (9.25 ounces) light or dark brown sugar
1/2 cup (3.75 ounces) granulated sugar
2 large eggs
2 teaspoons vanilla extract
2 3/4 cups (13.75 ounces) all-purpose flour
2 teaspoons cream of tartar
1 teaspoon baking soda
1/2 teaspoon ground cinnamon
1/4 teaspoon salt
Caramel + Cinnamon/Sugar:
18 square or rectangle soft caramels cut in half
1/4 cup granulated sugar
1 teaspoon ground cinnamon
Instructions
Preheat the oven to 375 degrees F. (see note) Line baking sheets with parchment paper or lightly grease with cooking spray. Set aside.
For the browned butter, cut the butter into pieces and add to a stainless skillet or saucepan. Heat on medium-low until the butter melts. Continue cooking, swirling or stirring occasionally; the butter will foam and sizzle as it cooks and golden bits (the butter solids) will settle to the bottom. Cook until the butter has a nutty fragrance and the solids are golden brown. Watch closely; it can burn quickly.
Remove from the heat and scrape the butter and all the browned bits into a large bowl. Cool the butter until the texture is thick and sludgy – or at the very least, no longer warm. This cooling step is important so the cookies don't spread while baking!
Add the brown sugar, granulated sugar, eggs and vanilla and mix until well combined.
Add the flour, cream of tartar, baking soda, cinnamon and salt, and stir until evenly mixed.
In a bowl or shallow dish, whisk together the 1/4 cup sugar and 1 teaspoon cinnamon.
Scoop out two tablespoons of dough (I use a #40 cookie scoop) for each cookie, flatten into discs, place half a caramel in the center of each, roll up the dough around the caramel and roll the balls until smooth.
Roll in the cinnamon and sugar mixture and place the cookie dough balls a couple inches apart on the prepared baking sheets.
Bake for 9-11 minutes until flattened and a few cracks form in the top (see note if your cookies are flattening or NOT flattening while baking).
Notes
Caramels: the caramels I use from Trader Joe's are .35 oz/10 gr each and are 1 1/2 inches X 1/2 inch. I cut them in half and use a half for each cookie.
Baking Temp: These cookies are on the thinner side, but they shouldn't flatten and melt all over the pan. To help them hold their shape a) bake on convection bake at 325 degrees OR b) bake on normal bake at 375 degrees (the only exception to this is if you already know your oven bakes hot; if so, bake at 350 degrees F). Conversely, if your cookies are staying puffy while baking, decrease the oven temp by 25 degrees.
Recommended Products
As an Amazon Associate and member of other affiliate programs, I earn from qualifying purchases.
Recipe Source: adapted from this recipe