These creamy baked mashed potatoes are perfect for when you need to make mashed potatoes ahead of time! Also, that buttery parmesan topping is to-die for.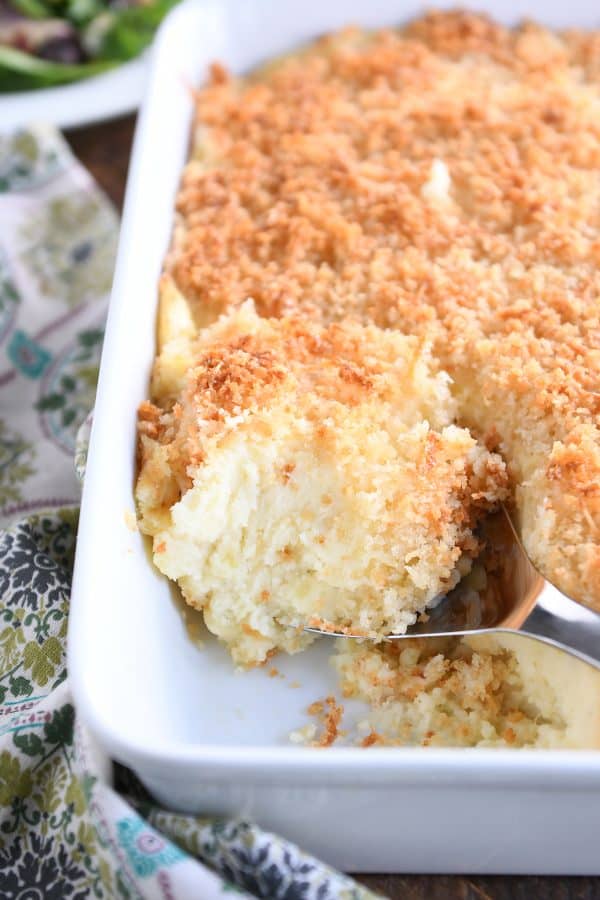 I really believe the world needs more make-ahead mashed potato dishes. Recipes that can be made days ahead of time, not just hours.
The problem is that often, when mashed potatoes are made ahead of time, they end up dry and pasty and just not very good. 
Until now. 
These creamy baked mashed potatoes are phenomenal. And that buttery parmesan crumb situation should win you over even if the make-ahead option doesn't.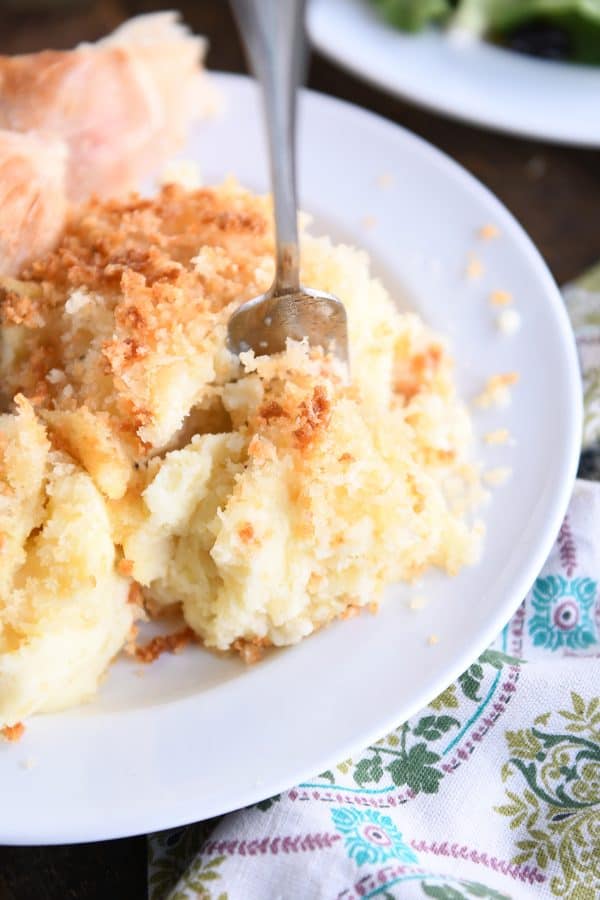 How Are These Different Than Other Mashed Potatoes?
At the start, they aren't all that different. Yukon Gold potatoes cook (stovetop or pressure cooker) until tender. 
After that, however, the fun starts. 
These creamy baked mashed potatoes also get:
butter
sour cream
cream cheese
milk
garlic pepper
salt + pepper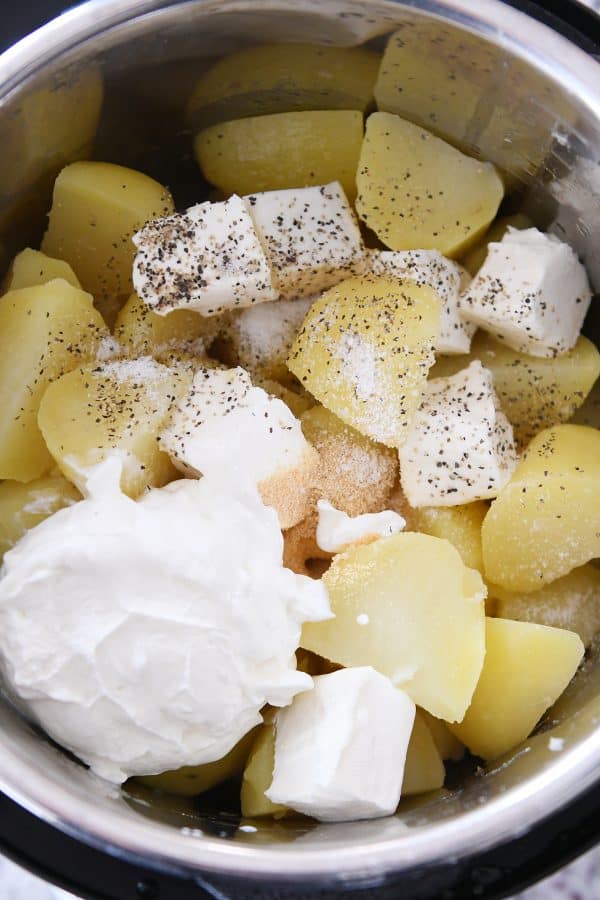 I add the butter and cream cheese, put the lid on, and let everything get soft and melty before adding the other ingredients and mashing. 
The mashed potatoes will be light and fluffy and creamy and magnificent.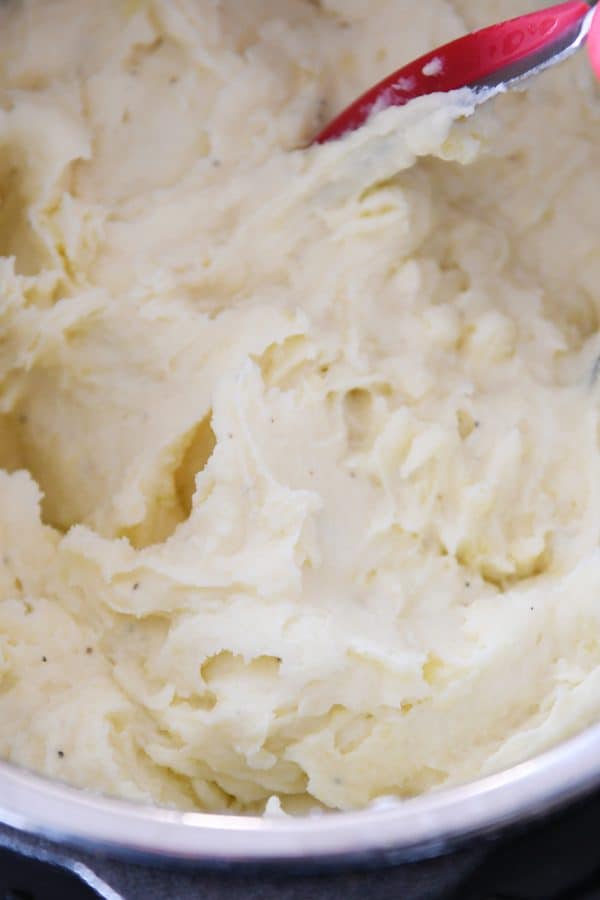 Make-Ahead Mashed Potatoes
To make them ahead of time:
spread the mashed potatoes evenly in a greased 9X13-inch dish and wrap tightly with plastic wrap or foil
refrigerate
make the buttery parmesan crumb topping; refrigerate that separately
when ready to bake, uncover the potatoes and bake for 10-15 minutes, sprinkle on the topping, and bake for another 40 minutes until hot
The potatoes and topping can be made ahead of time and refrigerated (separately) for up to 2 days.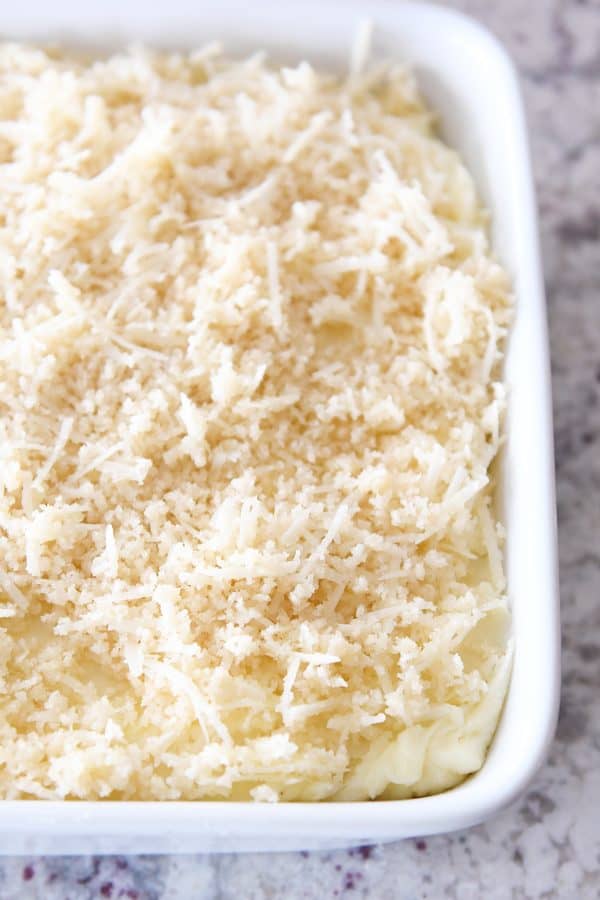 These mashed potatoes are fantastic for a basic side dish for a variety of meals. They are creamy and interesting enough that you don't really even need gravy! 
But they are also phenomenal served as traditional mashed potatoes smothered in gravy. 
The little bits of Parmesan crumbs actually make "mashed potatoes and gravy" a hundred times more exciting…and more delicious. 
If you are looking for a make-ahead mashed potato option for Thanksgiving, this recipe is a perfect solution!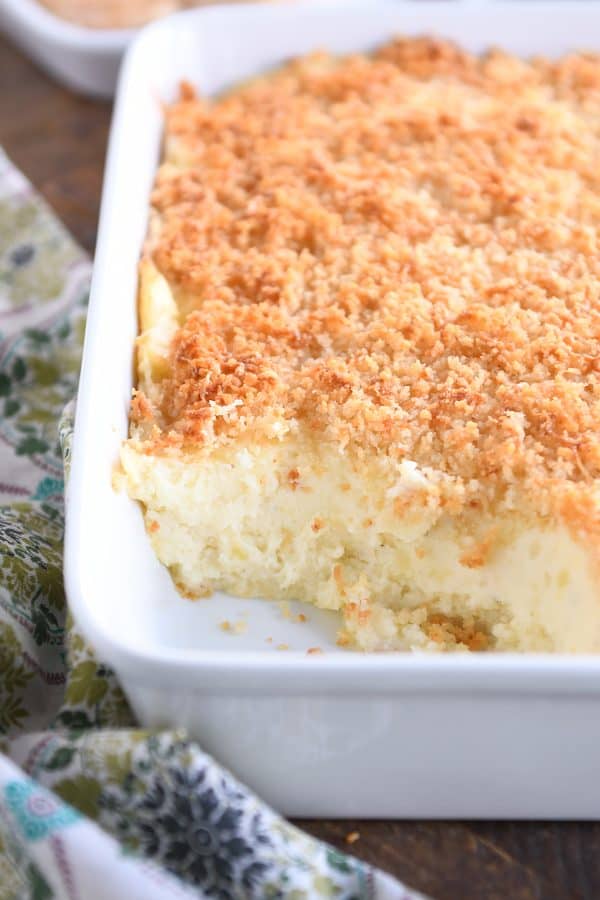 FAQs for Creamy Baked Mashed Potatoes
Can I use another type of potato beside Yukon Gold?
I haven't made these with other types of potatoes; but you could experiment. Russet potatoes are starchier than Yukon Gold and I don't know if they'll stay as creamy if made ahead of time.
How far in advance can these be made ahead?
The mashed potatoes can be refrigerated (in the 9X13-inch dish) up to two days ahead of time. Refrigerate the mashed potatoes and topping separately.
Can I leave off the topping?
I don't see why not (but it really is terribly delicious)! The potatoes may be a little bit dry on top after baking without any topping.
Can I leave out the cream cheese or sour cream or…?
Leaving out one of the creamy ingredients will change the texture of the potatoes. If you don't like cream cheese (or sour cream, etc) you can try experimenting by subbing in more of one of the other ingredients, but the potatoes may not have the same creamy flavor/consistency.
One Year Ago: Pressure Cooker Lasagna Soup + Stovetop Directions 
Two Years Ago: Instant Pot White Chicken Black Bean Chili Slow Cooker Directions Included!
Three Years Ago: Homemade Stovetop Stuffing
Four Years Ago: Buttery Fluffy Cornmeal Dinner Rolls 
Five Years Ago: Chocolate Cream Pudding Pie with Graham Cracker Crust
Six Years Ago: Warm Russian Tea 
Seven Years Ago: Healthy Applesauce Carrot Muffins a.k.a. Carrot Cake Muffins 
Eight Years Ago: Chocolate Mousse Cheesecake Pie 
Yield:
12 servings
Prep Time:
30 minutes
Cook Time:
1 hour
Total Time:
1 hour 30 minutes
Ingredients
Potatoes:
5 pounds Yukon Gold potatoes, peeled and cut into 2-inch pieces
1 tablespoon salt (I use coarse, kosher salt)
8 ounces cream cheese, cut into pieces
1/2 cup (8 tablespoons, 4 ounces) butter, cut into tablespoon-sized pieces
3/4 cup sour cream
1/4 cup milk
1/2 teaspoon garlic powder
1/4 teaspoon black pepper (I use coarsely ground)
Topping:
1 cup panko or regular bread crumbs
2/3 cup freshly grated Parmesan or Parmigiano-Reggiano cheese
6 tablespoons butter, melted
Instructions
Cook the potatoes until tender. Stovetop: add potatoes, water to cover, and 1 tablespoon salt to a large pot. Bring to a boil and simmer until potatoes are tender, 15-20 minutes. Drain and return to the pot. Pressure cooker: add potatoes, 2 cups water, and 1 tablespoon salt to insert of electric pressure cooker. Cook on high pressure for 8 minutes. Let the pressure naturally release for at least 10-15 minutes before releasing remaining pressure. Drain and return potatoes to insert.
Add the cream cheese and butter to the potatoes. Cover and let the cream cheese and butter soften and melt for 2-3 minutes (this will avoid little lumps and bumps in the cream cheese). Add the sour cream, milk, garlic powder, and pepper, and mash until creamy. Taste and add additional salt and pepper, if needed.
Lightly grease a 9X13-inch baking dish. Spread the mashed potatoes evenly in the dish. If making ahead to bake later, wrap the dish tightly with plastic wrap or foil and refrigerate for 1-2 days.
For the topping, combine the crumbs and Parmesan cheese in a small dish. Add the melted butter and toss to combine evenly. If baking right away, evenly spread the buttery crumbs over the top of the mashed potatoes and bake at 375 degrees for 40-50 minutes until potatoes are heated through and the topping is golden brown.
If making ahead, store the buttery topping in a container or bag in the refrigerator. When ready to bake, remove the plastic wrap or foil from the potatoes and bake for 15 minutes. Add the topping and bake for 40-45 minutes until the potatoes are heated through and the topping is golden.
Notes
Make-Ahead: I've included make-ahead notes in italics in the recipe.
Potatoes: I have only ever made this recipe with Yukon Gold potatoes. I don't know how it would fare with russets or another type of potato (russets are starchier potatoes and the casserole may not stay as creamy if made ahead of time).
Recommended Products
As an Amazon Associate and member of other affiliate programs, I earn from qualifying purchases.
Recipe Source: adapted from this recipe at NYT Cooking