This easy Amish baked oatmeal is so quick to mix up and can be made the night before to bake the next morning. Hearty and so delicious!
I have a soft spot in my heart for make-ahead breakfasts. And I also have a soft spot in my heart for oatmeal. 
So it's no wonder this easy Amish baked oatmeal is a fast favorite. For me and the kids. 
Hearty and delicious, we make it often for no-fuss breakfasts before school (I assemble it the night before). And it also makes an appearance when we do breakfast-for-dinner. 
Lightly sweet and texturally amazing, it's the perfect breakfast! 
Old-Fashioned Oats vs Quick Oats
This recipe works with both old-fashioned oats and quick oats. It does *not* work with instant oats or steel cut oats. 
I prefer using old-fashioned (or sprouted old-fashioned) oats, because we really like the slightly piecemeal, soft granola-ish texture. 
But if you like a softer, dare I say, mushier, oatmeal, go for the quick oats and bump up the milk just a bit. 
All of the simple ingredients for the oatmeal get whisked together in a bowl:
oats
baking powder
salt
brown sugar + touch of maple syrup
milk
eggs
butter or oil
Make it Overnight
This oatmeal is a great make-ahead breakfast.
The oatmeal mixture can be refrigerated for up to 24 hours before baking. 
If I am on top of things and make this ahead of time, I like to give the oatmeal a little stir right in the pan before baking. This prevents the layers from separating while baking (since everything settles a bit in the refrigerator). 
Whether you choose to bake it right away or refrigerate for a while, I just want to warn you that it's going to smell amazing when it finally does bake. 
Like a warm oatmeal cookie. 
Except healthier! And you can eat it for breakfast (ahem, because I would never ever EVER eat cookies for breakfast). wink wink
How to serve baked oatmeal
We scoop the warm baked oatmeal into bowls and add a little bit of milk. This helps cool the oatmeal down and soften it up a bit more. 
Sometimes we eat it straight up plain as can be. Oatmeal + milk. Pure and simple.
Other times we pull out blueberries or slice up a banana. Occasionally the kids beg to drop a handful of chocolate chips in their oatmeal. Who am I to say no? #delicious
We don't add extra sweeteners. It's perfectly sweet for our taste buds with the maple syrup and brown sugar. 
This easy Amish baked oatmeal is a staple recipe. And infinitely adaptable.
After loving this apple and cinnamon version for so long, I wanted a simpler, slightly plainer version for every day eating that could be adapted and experimented with depending on my mood.
Turns out, this is the only version my kids want to eat for the rest of forever. They love it.
And in case you are wondering: the leftovers are crazy good. 
FAQs for Amish Baked Oatmeal
Can I double this recipe?
Yes, but it might be too much for a 9X13-inch pan unless the sides of the pan are extra tall. You'd probably need to split into two pans
Can I sub in non-dairy milk for the milk?
This recipe works great with almond milk (and I'm assuming with other non-dairy milks).
How can I make this vegan?
Non-dairy milk works well for the milk – you'd have to experiment with an egg substitute. Perhaps the "flax egg" would work. Sometimes 1/4 cup unsweetened applesauce per egg works well in baking as well.
Can I bake the oatmeal in a smaller pan?
Yes. It will make a thicker oatmeal and may require a few extra minutes of baking, but it should work. I would suggest not baking in anything smaller than a 9X9-inch square baking pan.
One Year Ago: Banana Cream Cheese Coffee Cake with Chocolate Chip Streusel
Two Years Ago: Peanut Butter Chocolate Chip Bars 
Three Years Ago: Perfect Instant Pot Beef Stew 
Four Years Ago: Southwestern Chicken Barley Chili 
Five Years Ago: Cheesy Black Bean Lasagna
Six Years Ago: Whole Grain Honey Bran Muffins
Seven Years Ago: Skillet Butternut Squash, Sausage and Penne Pasta
Eight Years Ago: Chocolate Flan Cake i.e. Magic Chocoflan!
Yield:
6 servings
Prep Time:
15 minutes
Cook Time:
25 minutes
Total Time:
40 minutes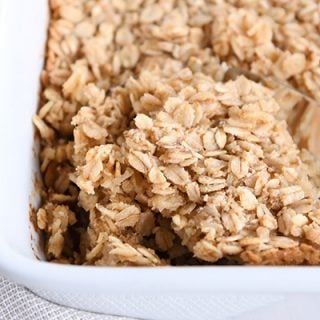 Ingredients
3 cups (10.5 ounces) old-fashioned rolled oats (see note for quick oats)
1/2 cup (3.75 ounces) lightly packed brown sugar
1 1/2 teaspoons baking powder
3/4 teaspoon salt
1 1/4 cups dairy or non-dairy milk (see note)
1/4 cup pure maple syrup
2 large eggs
1 teaspoon vanilla extract
6 tablespoons melted butter or oil (see note)
Toppings: additional milk, berries, sliced bananas, chopped nuts, etc
Instructions
Preheat the oven to 350 degrees F. (Skip this step right now if making the oatmeal overnight.)
Lightly grease a 9X13-inch baking pan (or smaller pan for thicker oatmeal). Set aside.
In a large bowl, add the oats, brown sugar, baking powder, and salt. Stir to combine.
In another bowl or liquid measuring cup, whisk together the milk, maple syrup, eggs, vanilla, and butter or oil.
Add the wet ingredients to the oats mixture and stir to combine.
Pour the mixture into the prepared pan. Cover and refrigerate until ready to bake (up to 24 hours) or bake right away.
Bake uncovered for 25-30 minutes until the edges are lightly golden and the oatmeal is set. Serve warm with additional toppings.
Notes
Oats: I prefer old-fashioned oats (or sprouted old-fashioned oats) for this recipe because we like the soft granola-ish texture. For a softer texture, quick oats will work.
Milk: feel free to increase the milk if you like softer/plumper oatmeal.
Butter vs Oil: I prefer using melted butter for flavor if baking the oatmeal right away; however, if I'm making it the night before and baking the next morning, I prefer using oil so the butter doesn't clump in the refrigerator (coconut oil will do the same thing).
Overnight: if refrigerating the pan of oatmeal overnight, before baking in the morning, give the mixture a quick stir right in the pan.
Sweeteners: you can adapt and alter the amount and type of sugar/syrup in the recipe according to your tastes.
Recommended Products
As an Amazon Associate and member of other affiliate programs, I earn from qualifying purchases.
Recipe Source: from Mel's Kitchen Cafe (altered from this old favorite)