Simple and elegant, these gingerbread cookie cheesecake bars are the perfect holiday mashup dessert! Gingerbread + cheesecake = WOW!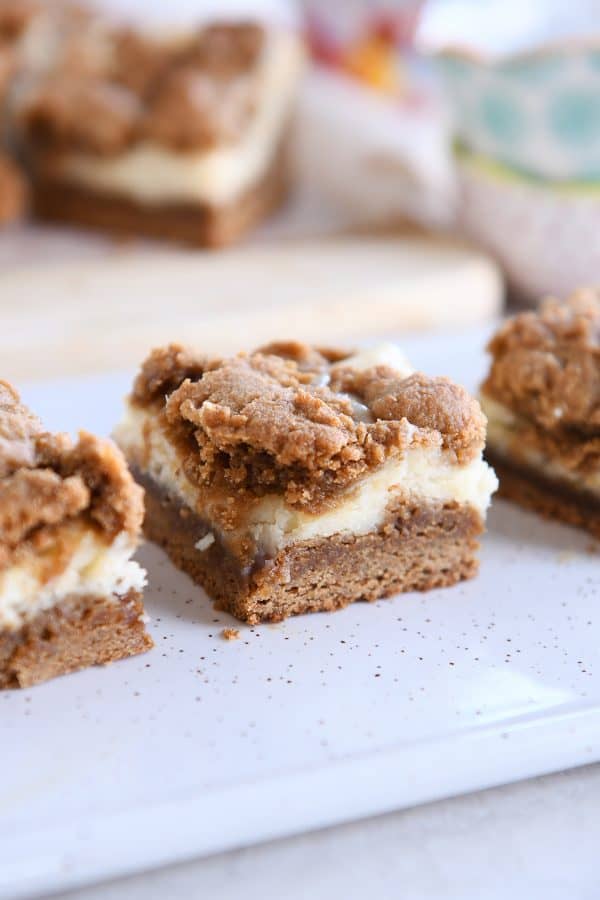 Do you have room in your heart for one more amazing holiday baking recipe?
I hope so, because these gingerbread cookie cheesecake bars are the perfect mashup of holiday flavors. Namely: gingerbread + cheesecake.
I've been on a bit of a gingerbread kick lately, and I have no regrets.
When done the right way, gingerbread flavors are the epitome of holiday baking…and eating.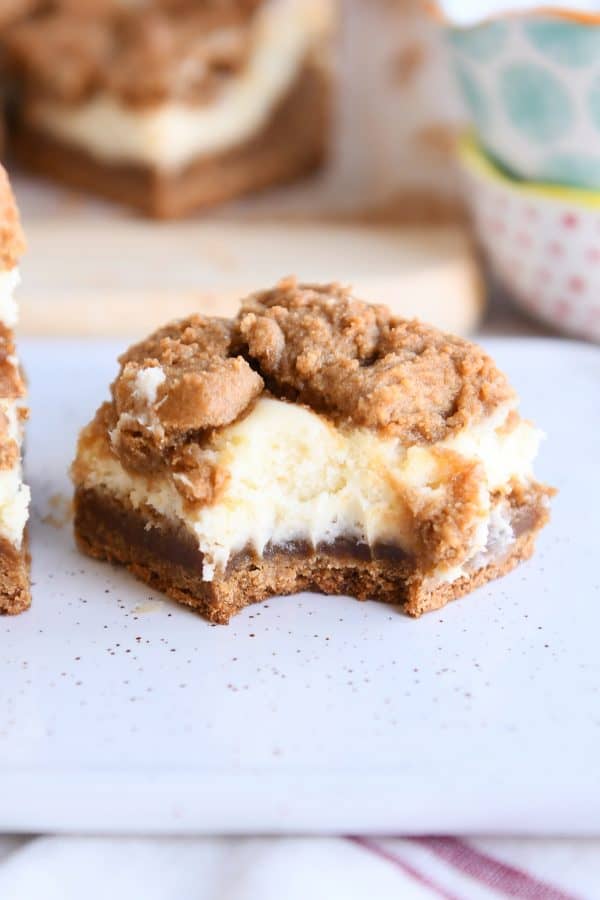 Gingerbread Cookie Dough
The gingerbread cookie dough for these cheesecake bars is about as simple as you can get.
One bowl! I don't even sift or separately mix the dry ingredients and spices.
I know. Livin' life on the edge over here. That's basically the level of crazy we're at this time of year.
The gently spiced buttery soft dough is hard to resist (baked or unbaked!).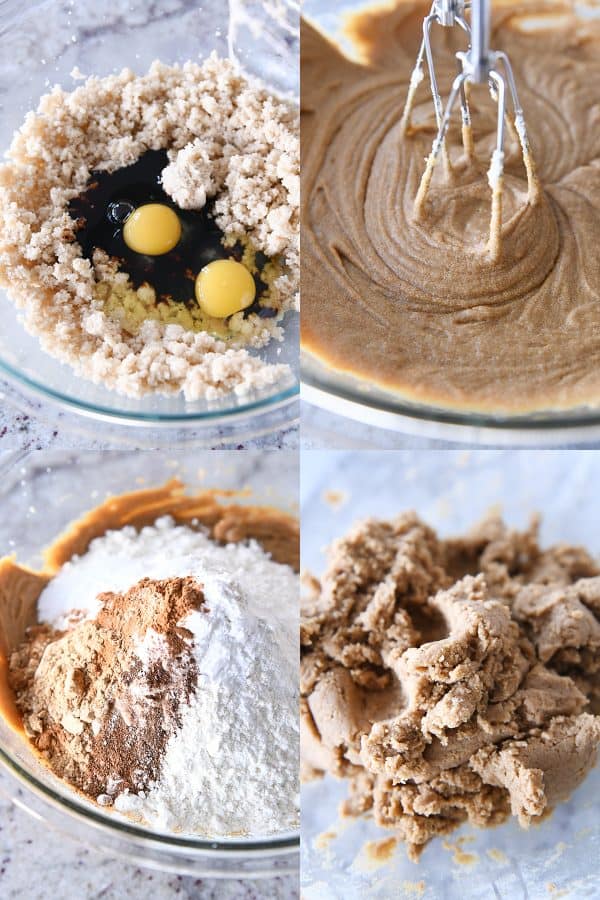 Cookie Dough + Cheesecake
To layer the bars:
First: more than half of the gingerbread cookie dough goes onto the bottom of the pan.
Next: fluffy, creamy cheesecake batter is spread on top.
Lastly: the reserved cookie dough gets crumbled in cute little pieces over the cheesecake.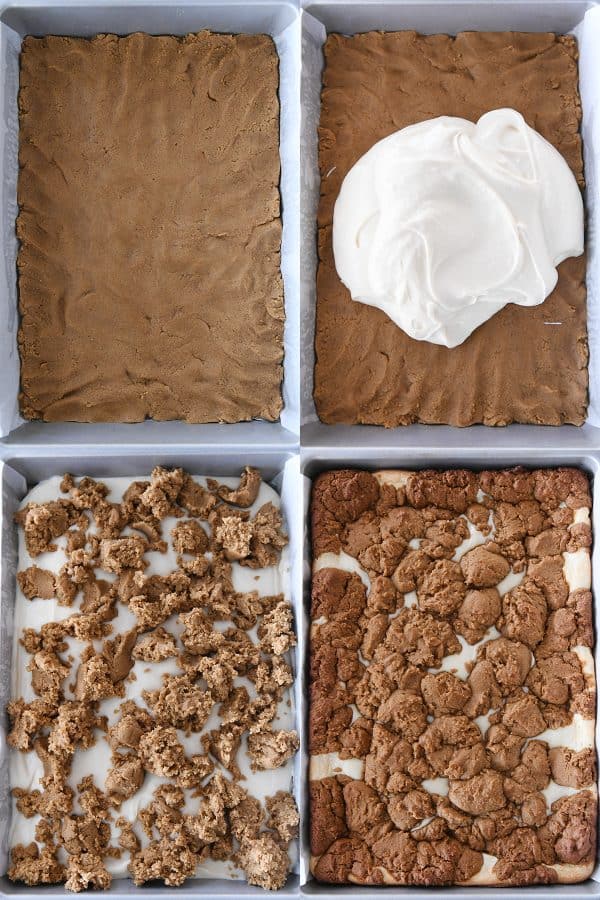 To prevent the cookie dough from over browning, you can tent the bars loosely with foil partway through baking.
But it's ok if you forget.
The cookie dough softens beautifully once cooled, covered, and chilled.
You want to bake the bars just until the edges are set – it's ok if the center is still a bit jiggly.
These gingerbread cookie cheesecake bars are irresistible.
Perfect for an eclectic holiday cookie plate, they also easily stand on their own for an elegant holiday dessert.
Gingerbread, for some reason, just screams "bite size" and "adorable" so I prefer to cut them into smaller squares. Easier for snitching, snacking, and sneaking.
FAQs for Gingerbread Cheesecake Bars:
Do these bars freeze well?
Yes, they freeze great!
Can I use light cream cheese instead of full fat cream cheese?
I recommend using full fat cream cheese – light cream cheese can cause the filling to be runny.
Can I halve the recipe?
Yes! The recipe halves very well to fit an 8X8-inch pan.
Why not black strap molasses?
Black strap molasses is thicker than unsulphured regular molasses and has a much stronger flavor – both of which affect the texture and flavor of the bars.
One Year Ago: Make-Ahead Overnight Tater Tot Breakfast Casserole 
Two Years Ago: Easy Peanut Butter Chocolate Graham Cracker Toffee
Three Years Ago: Yukon Gold Cinnamon Rolls with Perfect Icing Step-by-Step Tutorial 
Four Years Ago: Super Soft Chocolate Frosted Sugar Cookies Swig Style
Five Years Ago: Sparkling Cranberry Apple Cider Punch 
Six Years Ago: Amazing Scottish Shortbread
Seven Years Ago: Toffee Crumble Caramel Apple Pie
Eight Years Ago: Butternut Squash Stuffed Shells with Sage Browned Butter 
Yield:
24 bars
Prep Time:
35 minutes
Cook Time:
45 minutes
Total Time:
1 hour 20 minutes
Ingredients
Gingerbread Cookie Dough:
1 1/2 cups (3 sticks, 12 ounces) butter, softened (I use salted)
1 1/4 cups (9.25 ounces) granulated sugar
3/4 cup (5.5 ounces) packed light or dark brown sugar
1/2 cup unsulphured molasses (not black strap)
2 large eggs
3 1/2 cups (17.5 ounces) all-purpose flour
2 teaspoons ground cinnamon
1 1/2 teaspoons ground ginger
1 teaspoon baking powder
1 teaspoon baking soda
1/2 teaspoon salt
1/4 teaspoon ground nutmeg
1/8 teaspoon ground allspice
1/8 teaspoon ground cloves
Cheesecake Layer:
16 ounces cream cheese, softened
1 cup (7.5 ounces) granulated sugar
1 tablespoon all-purpose flour
2 large eggs
1 teaspoon vanilla extract
Instructions
Preheat the oven to 350 degrees F. Line a 9X13-inch metal baking pan with parchment paper with overhang on both long sides (to easily remove the bars). Grease the parchment paper and sides of pan with nonstick cooking spray. If using a glass pan, you might want to reduce the oven temperature by 25 degrees.
For the cookie dough, in the bowl of an electric stand mixer or with a handheld electric mixer, cream together the butter, granulated sugar and brown sugar, until light and fluffy, 2-3 minutes. Add the molasses and eggs and mix until well combined.
Add the flour, cinnamon, ginger, baking powder, baking soda, salt, nutmeg, allspice, and cloves, and mix until no dry streaks remain (don't over mix).
Reserve 2 cups of the dough (about 20 ounces) and set aside. Press the remaining dough in the bottom of the prepared pan.
For the cheesecake layer, in the bowl of an electric stand mixer or with a handheld electric mixer, beat the cream cheese until smooth. Add the sugar and flour and mix until well-combined, 1-2 minutes, scraping down the sides of the bowl as needed. Add the eggs and vanilla and mix until combined.
Spread the cheesecake batter over the gingerbread cookie dough in the pan. Crumble the reserved gingerbread cookie dough over the top of the cheesecake layer in small pieces.
Bake for 45-55 minutes until the edges are set – cover the top loosely with foil after the first 30 minutes to prevent the cookie dough from browning too much on top. The center may still jiggle slightly, that's ok. An instant-read thermometer inserted in the center should read 175 to 180 degrees F.
Let the bars cool completely in the pan. Cover and refrigerate for at least 4 hours or up to 12 hours. Remove the bars from the pan, cut into squares and serve.
Notes
Molasses: black strap molasses are too strong for this recipe and the thicker consistency will affect the texture of the bars.
Freezing: these bars, once cut into squares, freeze really well.
Cookie Dough: if you find that the cookie dough seems over baked or hard when the bars come out of the oven, don't worry! The cookie dough softens beautifully once the bars cool and after they are covered and chilled.
Recommended Products
As an Amazon Associate and member of other affiliate programs, I earn from qualifying purchases.
Recipe Source: adapted from this recipe