This slow cooker smothered beef tips recipe is so delicious, so elegant, and so easy. Tender pieces of beef + a flavorful gravy – yum!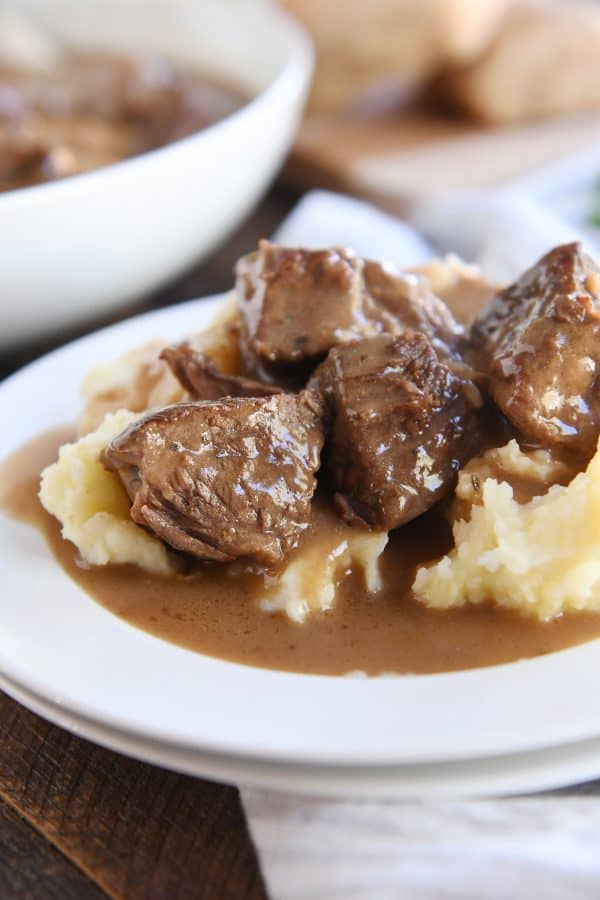 Wow. Talk about an elegantly easy meal. These smothered beef tips are incredible!
Served over the best mashed potatoes in the world, this is a stunning combination. The tender beef + flavorful sauce is whoa-good. 
Wonderfully, the slow cooker makes easy work of cooking the beef until it is fall-apart tender. This meal is fit for royalty (but easy enough for your cute, little family).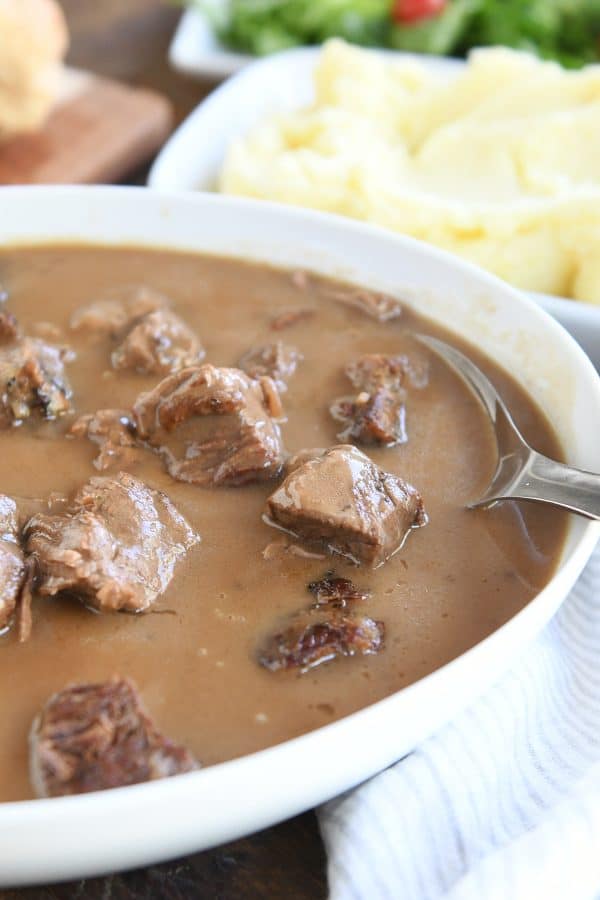 My family loves this hearty, comforting, delicious meal. It's right up there with their favorite pot roast, but the flavor is a little different, and this one is just ever so slightly fancier. 
A couple weeks ago, I made this meal for my son's (first ever) small homecoming friend group. 
I loved that the prep was done ahead of time, and the beef tips and gravy could hang out in the slow cooker for an hour or so before serving.
It made the actual dinner event super easy! (And also gave me time to crack a few really good mom jokes with his friends.)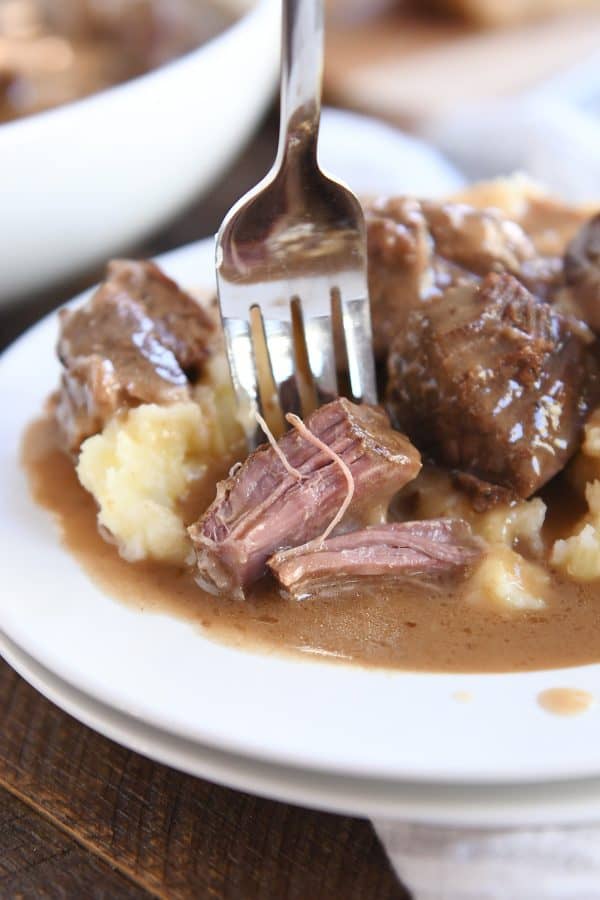 What Kind of Beef Roast to Use
Trip tip or sirloin roasts are excellent choices for this recipe. 
I haven't tried this recipe using stew meat, precut beef tips or another type of roast like chuck or arm roast. BUT, you could probably experiment.
FYI: chuck roasts are usually quite a bit fattier and will be greasier as they cook. Stew meat is hit and miss depending on where you buy it. If you use it, look for packages with larger pieces (vs super small beef cuts).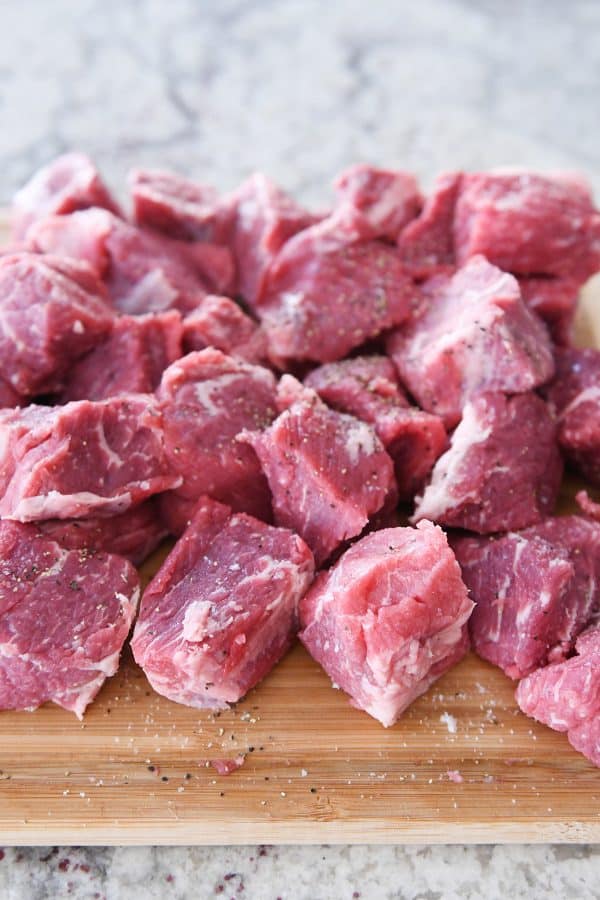 Browning: The Great Debate
I know, I know, a lot of you are cursing my name right now. Browning meat is the bane of many existences. 
It sizzles. It splatters. It's annoying. I get it.
But in this recipe, browning the beef before slow cooking makes a huge difference. In flavor. In the texture of the beef as it slow cooks. The end result will be infinitely better if you brown the beef, I promise.
It only takes a few minutes. You just want a quick sear on a couple sides until it is browned and glorious.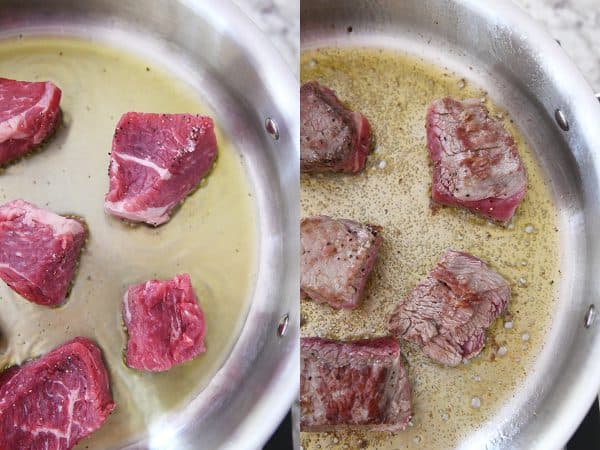 Pop the browned beef in the slow cooker and add the onions to the skillet. 
Pro tip! Another advantage of browning the meat is that the skillet is left with all of these beautiful golden sticky bits on the bottom of the pan.
As the onions cook, those browned bits will easily scrape up, and there is no substitute for the flavor they add. Plus, doing things like this add serious rock star points to your home cooking resume.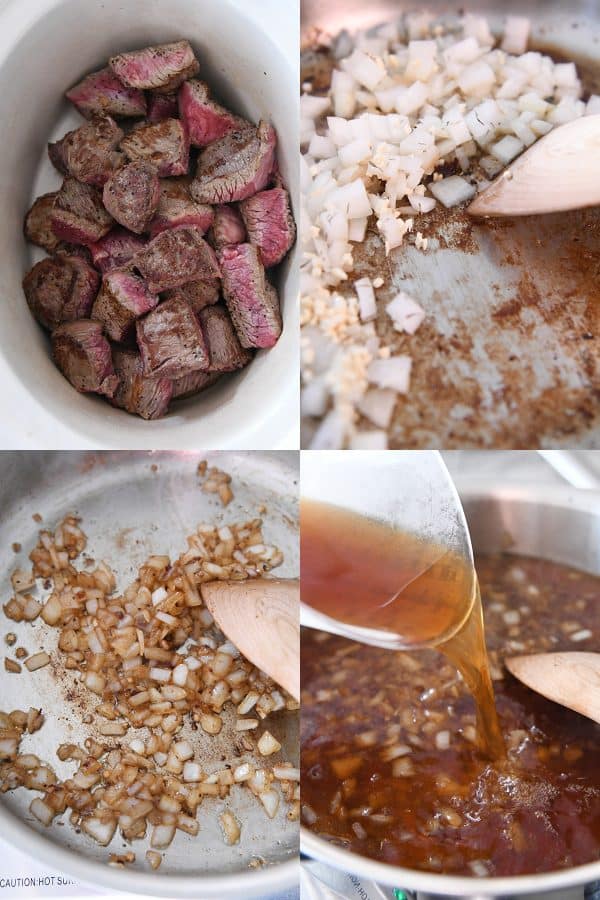 Pour in the beef broth and bring the mixture to a quick simmer. Add Worcestershire sauce, bay leaves and a pinch of dried thyme.
Add all of this to the beef in the slow cooker, cover, and cook until the beef is fall apart tender!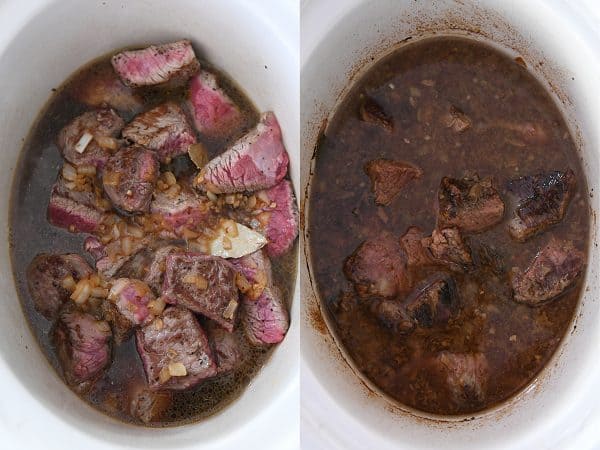 How to Make Gravy
These slow cooker smothered beef tips are only as good as the gravy. And I'm going to show you how to make the best gravy of your life. 
Add equal parts butter and flour to a sauce pan and cook until bubbling. Let this mixture cook, whisking constantly, until it turns golden brown.
Hello. More flavor. 
Pour in the cooking liquid from the slow cooker, and simmer until the gravy is thickened. (See the recipe instructions about what to do for too-thin or too-thick gravy.)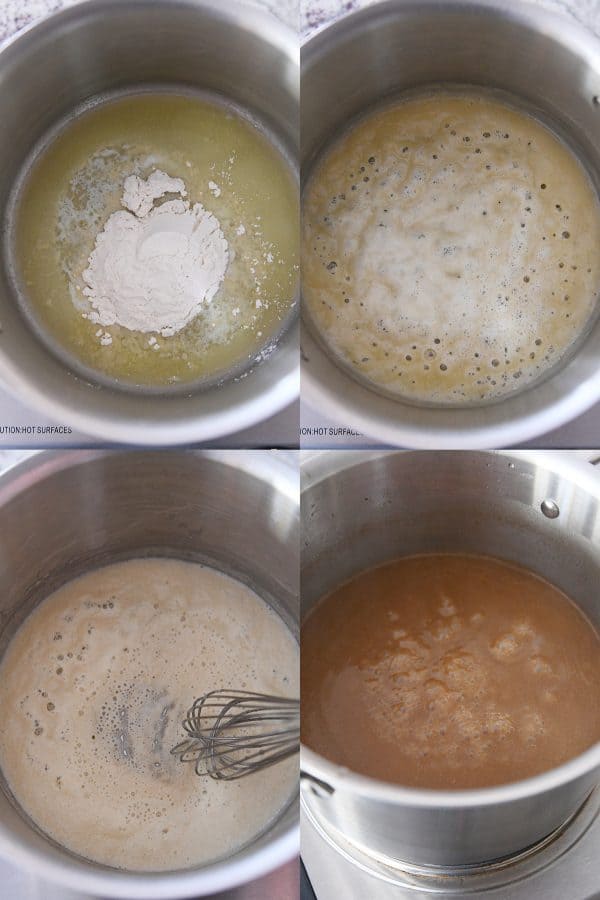 Pile in the beef chunks to the rich, flavorful gravy, and get ready for the best meal of your life. 
PS Gravy IS life.
While this recipe may not fit into your busy Tuesday night dinner plans, make sure to bookmark it when you want a fancy meal with a low-level effort. 
There's a few more dishes to wash than, say, a one-pot wonder, but it's worth it the minute you take the first bite (or when the fragrant smells fill up your kitchen from cooking all day). 
These slow cooker smothered beef tips have already made a Sunday dinner appearance in our house, and I have a feeling we'll be seeing them on a regular rotation.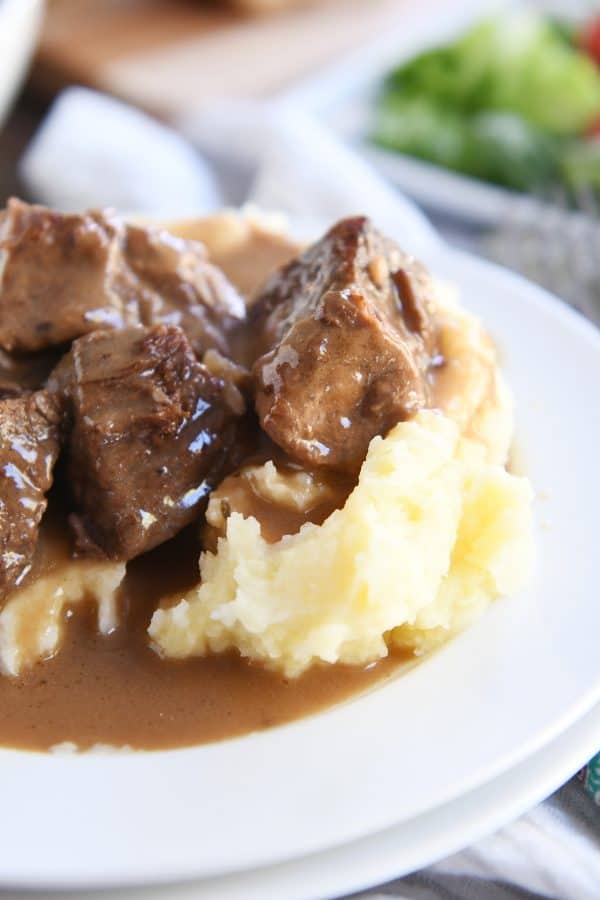 FAQ'S FOR THESE SMOTHERED BEEF TIPS:
Can I use chicken or pork?
You could definitely try, but the cooking time would be different as well as the flavor.
Can I halve the recipe?
Yes! Halve all the ingredients straight across except for maybe using two cups broth (cooking time should remain the same).
Can I use a different type of beef?
I recommend using tri tip or sirloin roasts, but you could try another type of beef roast – just keep in mind that some cuts of beef don't cook up quite as tender.
Can I make this gluten free?
There's a good chance using a cornstarch slurry for the gravy will work in place of the flour/butter roux. I'd suggest bringing the reserved liquid from the slow cooker to a simmer and then adding a cornstarch slurry (try 2 tablespoons cornstarch + 1/4 cup water or broth to start).
Does this freeze well?
I haven't tried freezing this, but I'm guessing that will work pretty well.

Instant Pot Mashed Potatoes
5-Minute Broccoli or Roasted Veggies
French Bread Dinner Rolls
One Year Ago: The Best Taco Soup Stovetop or Slow Cooker 
Two Years Ago: Soft Banana Bread Cookies
Three Years Ago: Sour Cream Banana Bread One-Bowl!
Four Years Ago: Simple Creamy Chicken and Wild Rice Soup
Five Years Ago: Sesame Chicken Pasta with Thai-Style Peanut Sauce
Six Years Ago: Dinner in a Pumpkin 
Seven Years Ago: Overnight Steel Cut Oatmeal 
Eight Years Ago: Cinnamon Apple Cider Muffins
Yield:
6-8 servings
Prep Time:
30 minutes
Cook Time:
9 hours
Total Time:
9 hours 30 minutes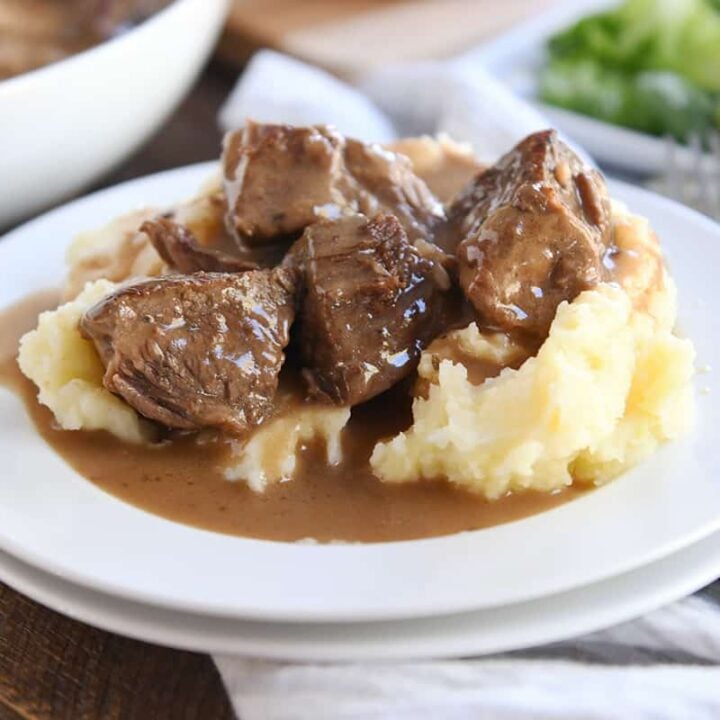 Ingredients
Beef:
3 pounds tri tip or sirloin beef roast. cut into 1- to 2-inch pieces
Salt and pepper, for seasoning
2-3 tablespoons olive oil, avocado oil or canola/vegetable oil
1 cup diced onions
2-3 cloves garlic, finely minced
3 cups beef broth or beef stock
1 tablespoon Worcestershire sauce
2 bay leaves
Pinch dried thyme
Gravy:
3 tablespoons butter
3 tablespoons flour
1 teaspoon red wine vinegar
Fresh parsley, for serving (optional)
Instructions
Season the beef pieces on all sides with salt and pepper. Heat the oil over medium heat in a skillet until hot and rippling. Add some of the beef in a single layer, not touching, and cook for 30 seconds or so until golden, flip and brown on the other side. Transfer beef to the insert of 6-quart slow cooker. Repeat with remaining beef, adding additional oil, if needed (let it heat up before adding more beef pieces).
Once the beef has all been browned and transferred to the slow cooker, add the onions to the skillet set over medium heat. If the skillet is dry, add a teaspoon or so of oil.
Cook the onions for 3-4 minutes, until translucent. Scrape up any browned bits from the bottom of the skillet. Add the garlic and cook for another minute. Pour in the beef broth or stock and Worcestershire sauce and bring to a simmer, scraping up bottom of pan.
Pour mixture into the slow cooker with the beef. Add the bay leaves and thyme. Cover and cook on low for 8-9 hours or 4-5 hours on high until beef is tender.
Transfer the beef to a dish and cover to keep warm. At this point you can strain the liquid in the slow cooker to remove any solids/onions or use as is for the gravy. You should have about 3-4 cups of liquid.
For the gravy, in a medium saucepan over medium heat, melt the butter. add the flour and whisk to combine. Cook, stirring constantly, for 1-2 minutes until bubbling (it's ok if it browns slightly). Add the reserved liquid from the slow cooker about one cup at a time, whisking vigorously to avoid lumps.
Bring the mixture to a simmer and cook, stirring constantly, until thickened. Stir in the red wine vinegar and season to taste with additional salt and pepper, to taste. If the mixture is too thin, stir together equal parts softened butter and flour until smooth and quickly whisk into simmering gravy. If the mixture is too thick, thin with additional beef broth.
Add the beef pieces back to the slow cooker or to a serving dish and pour the gravy over the top. Serve over mashed potatoes with fresh parsley (optional).
Recommended Products
As an Amazon Associate and member of other affiliate programs, I earn from qualifying purchases.
Recipe Source: from Mel's Kitchen Cafe